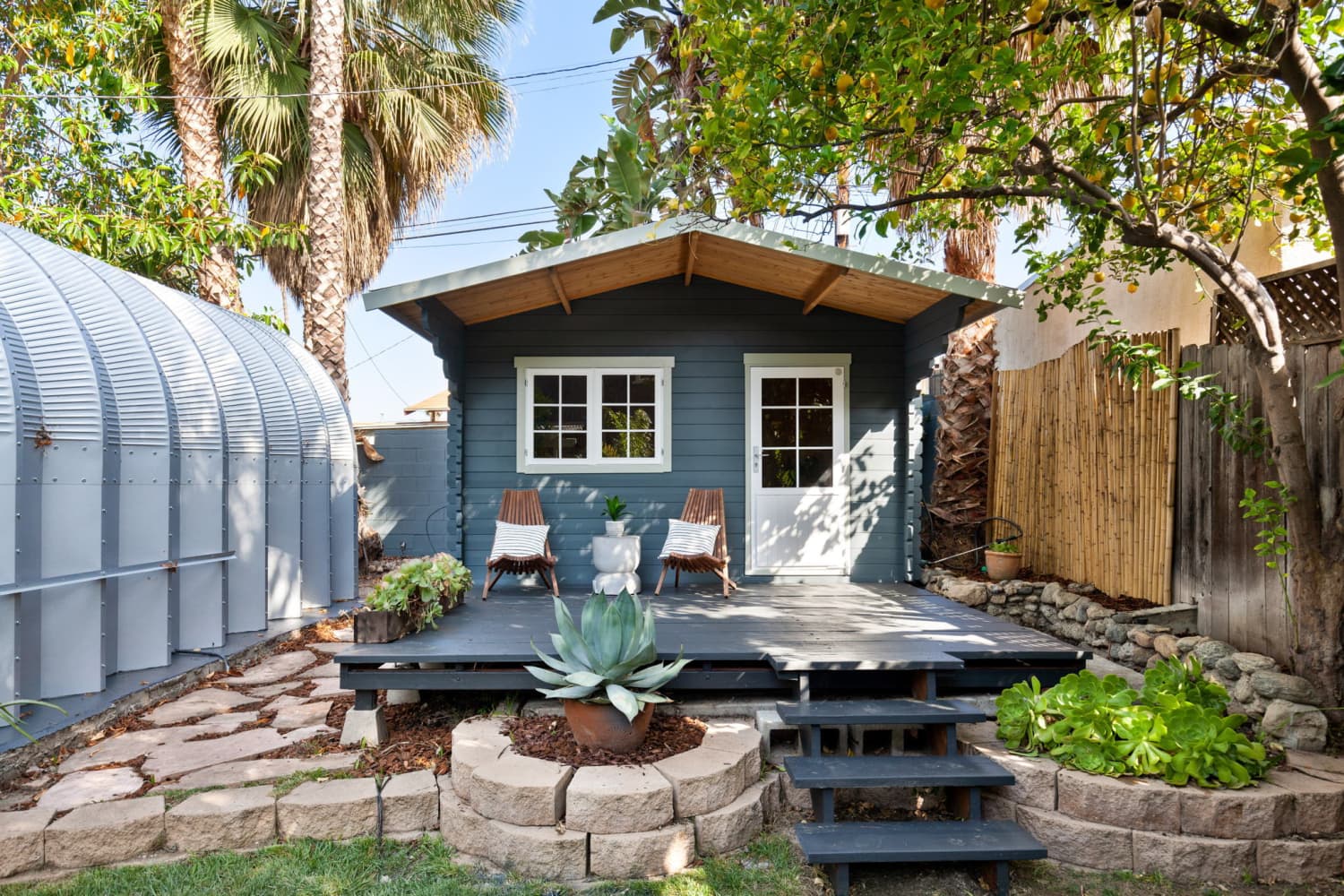 With multiple-offer situations taking place all over the country and interest rates flying high, it's a struggle to buy even one house. But if you land this single-family for sale in Los Angeles, you get two bonus buildings with it. One is a Quonset hut, an arched single-room structure made of corrugated galvanized steel. Two sets of glass doors fill the space with light, making for a sweet yoga studio, writer's den, or standalone living room. Right next to it, a few steps lead up to a darling blue wooden cabin with its own front porch. Inside, calming pine-colored walls and a vaulted ceiling make for a quaint home office (with the world's quickest commute).
The three-in-one deal is a huge draw, to be sure, but the main single-family home is lovely enough for a closer look. The bathroom, with a clawfoot tub, subway tiled walls, and geometric blue-and-white flooring is a highlight — with a shower window looking out into the palm tree-blessed backyard to boot. And the kitchen, filled with sunlight sparkling stainless appliances and a farmhouse sink, makes me want to cook up a big brunch and lay it out in the adjacent breakfast room.
Of course, California living means plenty of time spent outside. This home's backyard, complete with a pergola-covered patio, tons of lush plantings, and a stone path leading from the front yard to the cabin in the back, is all the motivation I'd need to get outside.
Are you on the house hunt, or just the type of person who loves browsing real estate listings, even when you're not in the market for a new home? Property Crush is a column where we feature actual real estate listings that get the Apartment Therapy seal of approval in regards to style (we haven't done home inspections or anything, so don't sue us). Know of a great house on the market? Email the listing to repitches@apartmenttherapy.com.