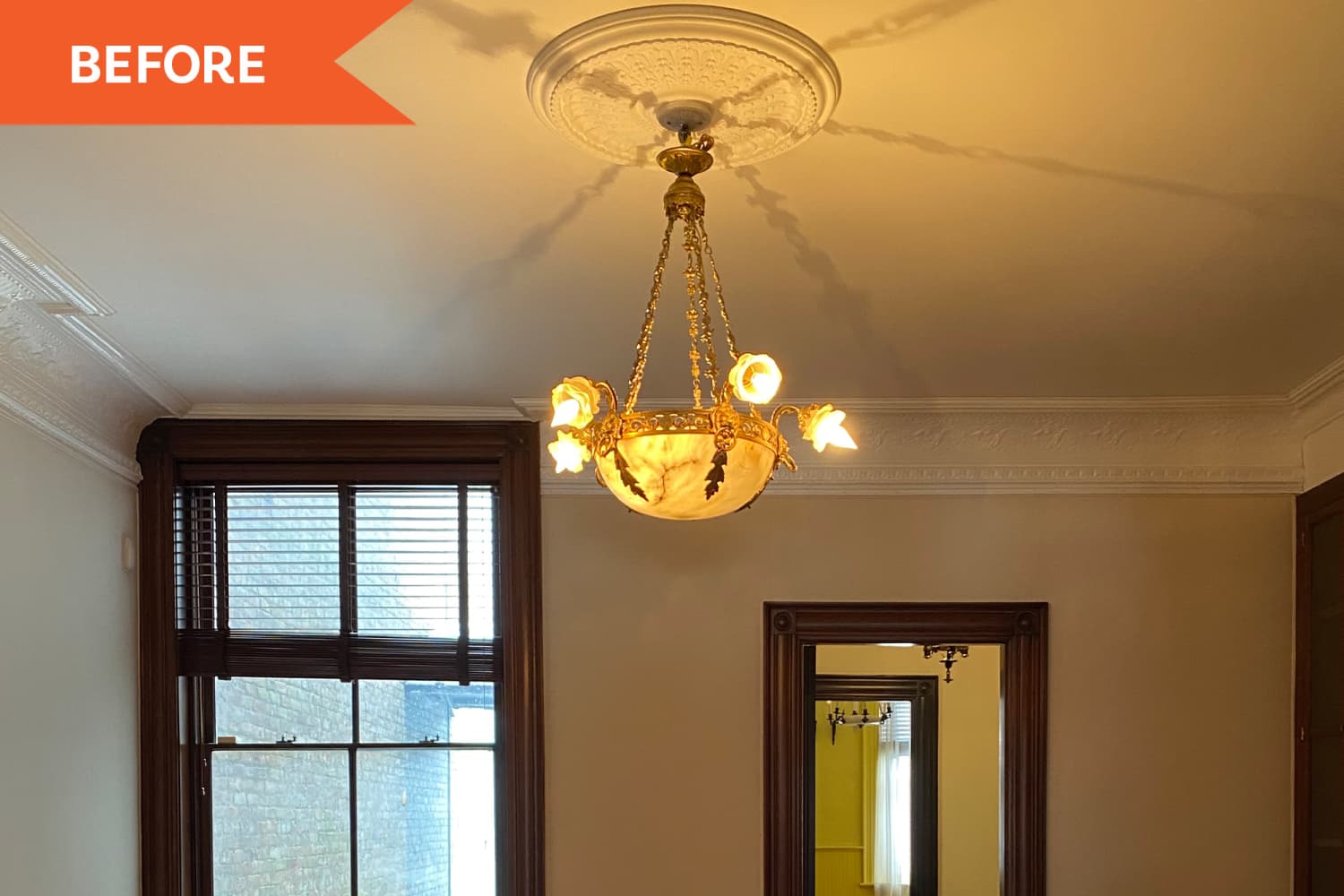 We independently select these products—if you buy from one of our links, we may earn a commission. All prices were accurate at the time of publishing.
Sometimes, designing the kitchen of your dreams means relocating its footprint to an entirely different floor. Such was the case for Hudson, New York-based interior designer Nicole Fisher, the founder and principal of BNR Interiors. In her 1882 brownstone home, which formerly housed a YMCA in the 1950s and an antique shop in the more recent past, she created a glam, eclectic kitchen by moving it from the third floor to the first floor and mixing period details with on-trend finishes.
Fisher had to have considerable vision to be able to see the blank first floor room as a kitchen. Ultimately though, she felt like the relocation was necessary for flow, since she was converting the brownstone into a single-family building for her, her husband, and their young son. "The number one issue was function," says Fisher. "There was no longer a store component [at street level], so I had to be able to have proper living space on the first floor. Once we relocated the kitchen to the first floor, it felt more like a home."
The ground floor did have great bones though, and Fisher wanted to salvage as much of that charm as possible to make her kitchen truly unique; taken as a whole, the room's now essentially a style-forward mashup of old house details, unconventional storage solutions, and modern finishes. "There was a fireplace surround that we were able to save (pictured above), a mahogany built-in that we kept, and a closet that we turned into a pantry," she says of the project.
While Fisher did have the existing muslin upholstery on the walls removed, she fell in love with the original 12-inch crown moldings and left them totally intact. Perhaps the most striking element she utilized was the 7-foot tall window, which was a natural focal point in the room she embraced and designed around. Fisher made the strategic decision to place the kitchen sink right beneath it, giving herself an outdoor view for dish-washing. Though she installed a new window for energy efficiency, which took about four months to commission and get in hand, her contractor saved the original window trim to reinstall it for consistency with the rest of the home. The wooden floors were also original to the space and kept for their beauty.
Because the room had no existing plumbing or gas lines, Fisher had lots of flexibility when it came to the layout and the placement of fixtures and appliances. She chose a simple but super-functional L-shaped layout, mixing white lower cabinets and drawers with an upper open wooden shelf that runs almost the full distance of the double-oven and stove wall. That shelf is accented with gold metal trim around its perimeter and is used as a storage spot primarily for decorative objects like candleholders, canisters, and vases. Fisher also keeps a small watering can and a stack of cookbooks here; other cookbooks rest on the oversized windowsill. A nearby glass front built-in bookcase holds dishes and glassware.
Starting essentially from scratch also created an opportunity for streamlining the space with a unique ventilation solution and pivoting with the electrical. "The vent for the stove goes down through the floor, so we could avoid a vent hood," Fisher explains. "The new kitchen wall was all brick, so we couldn't run for electrical outlets to be flush with the wall. So I found these countertop-mounted outlets that sit flush with the countertop and don't require any wall-mounted wiring."
When it came to the look of the countertops and walls, Fisher introduced a touch of drama and glamour with Calcutta Viola Marble stone counters and a coordinating seamless half-backsplash over the stove area. The stone's large, grayish-purple veining plays well with the all new stainless steel appliances, but the hardware and sink fittings warm up the space with their quiet golden-bronze tone. Equally pretty is the soft, almost pink wall color running throughout the space: Benjamin Moore's Cashmere Wrap (CSP-345). "I had been holding on to this paint color for a long time," says Fisher. "I just love it!" Subtle and not oversaturated, this hue's also the perfect backdrop for artful touches, too, including a small painting highlighted by a picture display sconce and a set of wall-mounted Fornasetti plates.
Since the space was something of a blank slate, Fisher didn't encounter too many setbacks while constructing her own dream kitchen. "Appliance delays and window delays were the big challenges," she says. "We had the kitchen made for a 42-inch refrigerator that arrived broken after six months. The only thing I could get was a 36-inch, so we added in a 6-inch cleaning cabinet [to fill the gap]. Sometimes you just have to think on the spot and make a quick decision if you want it done."
Now Fisher has a kitchen that fits her style perfectly and deftly mixes the old and new. "[I love] how unique it is," says Fisher. "I love that it's something you don't see ever."