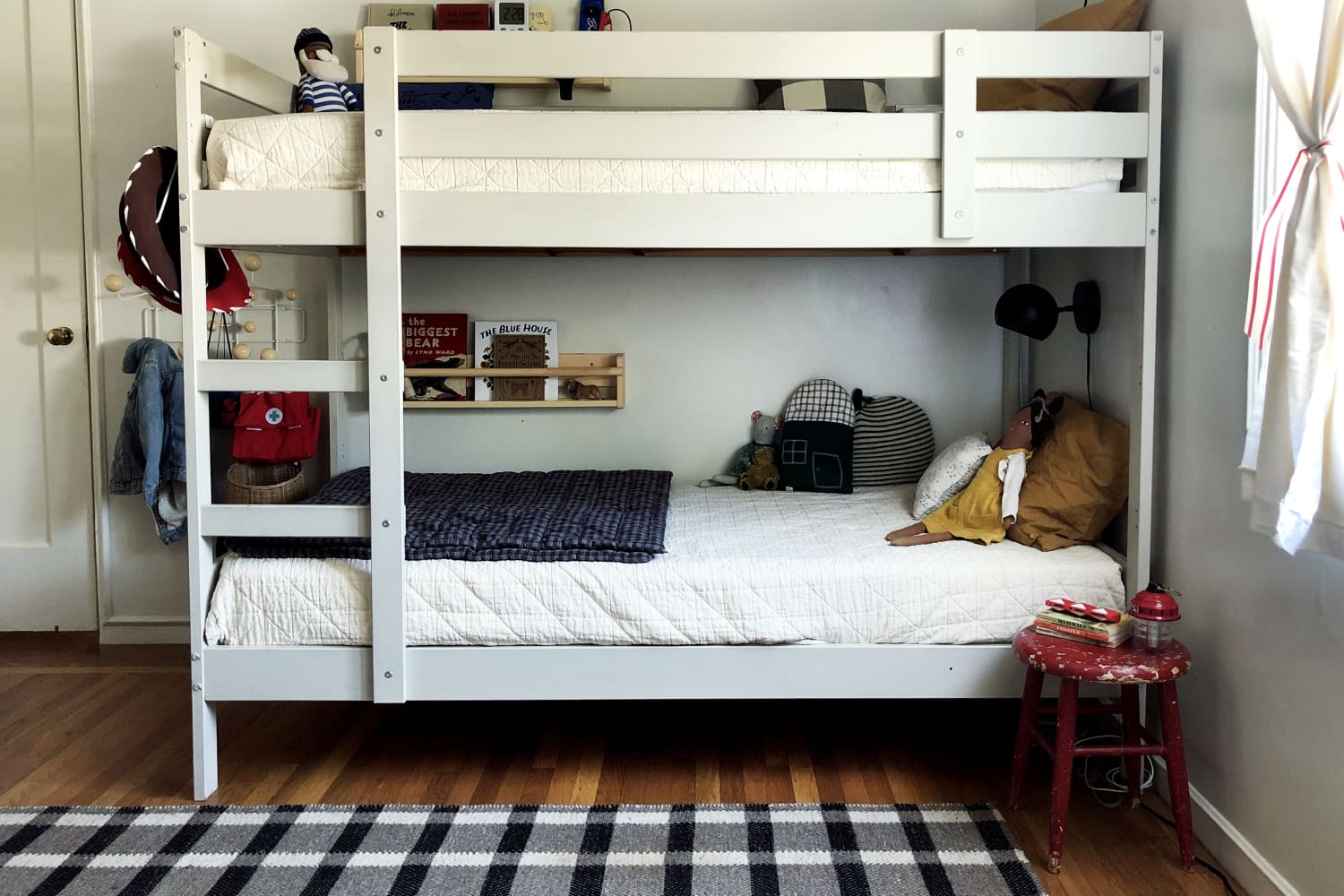 We independently select these products—if you buy from one of our links, we may earn a commission. All prices were accurate at the time of publishing.
When my son became bunk bed-obsessed back in 2019, I never imagined it would lead me to write a whole book about bunk beds, but here we are: "The Bunk Bed Book" came out last month, and now I am something of a bunk bed expert. Researching and writing a book about bunk and loft beds led me to realize what a wide world of bunks there are: Short ones, super-tall ones, triple bunks, trundle bunks, and bunks that looked like full-blown forts — not to mention all the loft beds!
Picking bunk beds or designing them from scratch is a surprisingly intimidating task. Because they're often a big investment, these decisions become even more fraught.
I can't tell you exactly what to buy or build because it will depend on the space you have, but I can give you these nine tips to help you get your selection right, which follow right here.
Don't just go for the cheapest design.
With bunk beds, you get what you pay for. Dozens of affordable bunks exist on bargain or mass-market sites, but from what I heard from homeowners and interior designers, these are almost never a good choice because the materials and construction do not hold up to everyday use.
Say no to particle board.
Along the same lines of not scrimping on price, pay attention to the materials of the bunk you buy. If you see particle board or MDF listed in the description of materials, keep looking for something made of solid wood. It doesn't have to be expensive either: IKEA's classic MYDAL is solid pine, which while less durable than hardwood, is way more likely to last than manufactured wood.
To prevent today's bunk from becoming tomorrow's trash, look at open-ended designs like, say, a simple house shape or a bunk with a slide, if you're dying for something playful.
Be careful with super-low bunks.
A low-slung bunk bed can be a great solution for a small or low-ceilinged room, where bunks are the only way to fit in two kids. For the long haul though, I'd recommend you avoid lower style bunks. They're harder for adults to get in and out of, and as your kid gets taller, the lower bunk will be less and less appealing.
Explore an upgraded size bed situation.
If you're shopping for an older child or want your bunks to last into the teen years, look to extra-long twin, twin-over-full (like this one in a room by designer Erin Gates above), and even full-over-full size models. The extra few inches of length will make the bunks way more comfortable for anyone adult-sized. These plus-sized bunks are also a great choice for guest rooms that adults will use.
Weigh the pros and cons of stairs.
Bunks with steps are the easiest to use and arguably safer than ladders, but they also take up a lot of space. If storage is built into the steps, this can alleviate the need for a dresser, so that might make the extra cost and space for a staircase worthwhile. Just know that bunk beds with stairs are also the priciest option on the market.
Consider your ladder options.
Most people do not think much about ladders, but so many different types exist, and each has its own set of pros and cons:
Integrated straight ladders: The most common kind of bunk ladders, these go straight up and down and are affixed to one side of the bed. This type of ladder requires no additional floor space, and many bunk beds can be ordered or assembled to whichever side you prefer. This is also usually the most affordable option.
End ladders: Bunks with the ladder positioned on the short end leave the entire lower bunk open, which can be especially nice for adults and creates a more minimalist look.
Angled ladders: Less common than a straight ladder, an angled ladder sticks out into the room. You want one with an angle of 30 degrees or less. Ideally, it should have a safety rail. These take up more room than straight ladders, but they are a little easier to climb.
Choose a brand with white glove delivery.
If ever there was a piece of furniture that warranted professional assembly, bunk beds might be it. White glove delivery can be pricey and depends on the vendor, but in my experience, the delivery people can build a bunk in mere minutes compared to the average person-and-a friend's a half a day of work for assembly. Plus, when you're making an investment, you want to know that your piece is built to last and safe for anyone to use.
Seek out flexible designs.
Many manufacturers are building flexibility into their designs with bottom bunks you can add or remove (like Oeuf's Perch bunk, as seen here in blogger Erin Boyle's home), stacked twins that can be separated later on, and more. One of these might be pricier than a fixed bunk, but it could save you money in the long run when you don't need to buy additional beds later.