LG Electronics' Styler, a closet, mirror, and steam clothing care appliance in the stylish form of a minimalist mirrored monolith, has offered a novel and convenient way to freshen up garments between washes for a few years now. But color us a tad surprised the Korean appliance and technology giant has come out and taken aim to cater to sneaker aficionados obsessed with keeping their prized kicks clean and pristine with the announcement of LG Styler ShoeCase and ShoeCare at IFA 2022.
Following the footsteps of the garment-focused Styler, the ShoeCare is similarly engineered to refresh footwear using a combination of the brand's signature TrueSteam technology and the moisture absorbent microporous mineral zeolite. The 2-methods are intended to banish funky foot odors and banish the moisture that causes them in 37-minutes + refresh sessions.
The system doesn't take a one-size-fits-all approach to refreshing footwear, with the storage and cleaning appliance's settings programmed to baby shoes specific to their material composition, whether it be leather, suede, or other footwear performance fabrics with the utmost care via 10 different programs.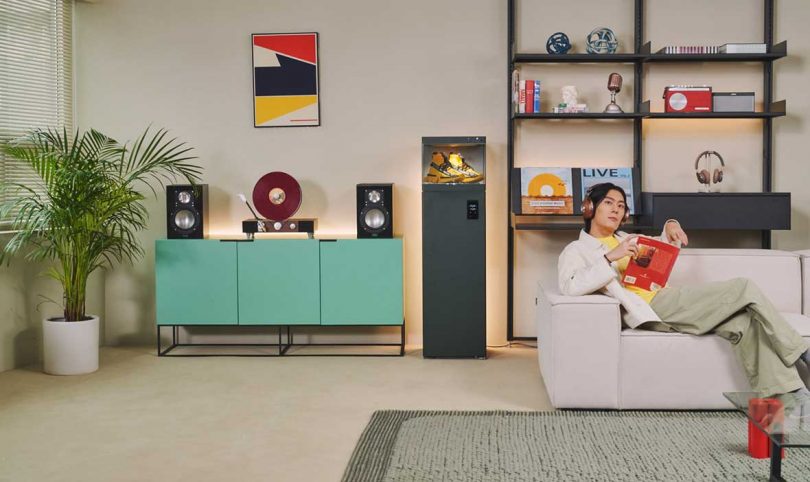 The LG Styler ShoeCase on the other hand is more transparent about its intention to show off their owner's favorite footwear – a showcase for shoes. Literally. The ShoeCase's clear paneled display and storage boxes are even equipped with their own 360-degree rotating turntable and a stackable modular design to really take that flex to another level.
No hard details about pricing or availability yet, but we more than expect both storage and care appliances to become popular not only with sneakerheads, but all variety of hobbyists with collections deemed deserving of next level care and attention.
This post contains affiliate links, so if you make a purchase from an affiliate link, we earn a commission. Thanks for supporting Design Milk!