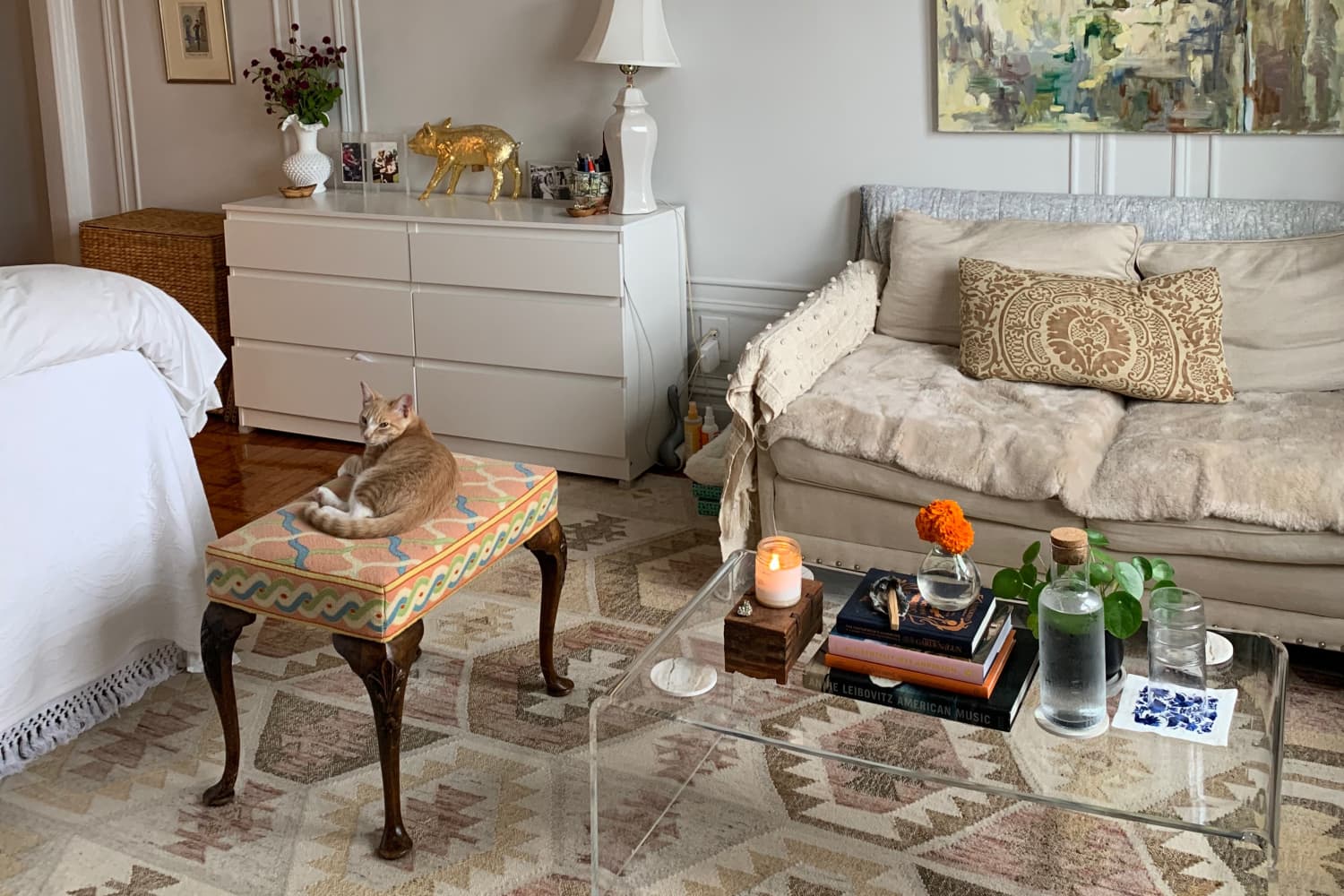 published about 4 hours ago
Name: Isabelle Donovan and Salty Cat
Location: Brooklyn, New York
Type of home: Apartment
Size: 325 square feet
Years lived in: 15 months, renting
For more content like this follow
Tell us a little (or a lot) about your home and the people who live there: The home is a mix of vintage and new. Mostly thrifted pieces and some hand me downs from my mom who is an interior designer. It was important for me to be able to entertain in a small space so I spent a lot of time optimizing the space for that. I live here with my rescued cat, Salty Cat, named after my favorite cooking ingredient — salt!
I really like a mix of traditional, antique, vintage, and modern furniture. I love textiles, pattern, and color as well. I kept the base of the room very neutral with pops of color, texture, and pattern to make the space more interesting. Scale was really the most important thing to me to ensure that each item I bring into the home fits appropriately. I like a little spunk but I also love traditional things.
From my custom leopard print Knoll chair to Fortuny pillows and vintage champagne buckets, traditional oil paintings, and modern photography set on a backdrop of light gray crown molding. I also really wanted to achieve a quality space but did not have a large budget so spent a lot of time finding ways to achieve that with second hand items. I've been heavily influenced by my mom who is an interior designer.
Describe your home's style in 5 words or less: Ecclectic, traditional, muted, modern
What is your favorite room and why? It's all in one room, so bedroom/living room.
What's the last thing you bought (or found!) for your home? A vintage lamp and marble side table.
Any advice for creating a home you love? Measure everything!!! Build with the foundations/basics and accessorize slowly. Buy things you will use and that look beautiful.