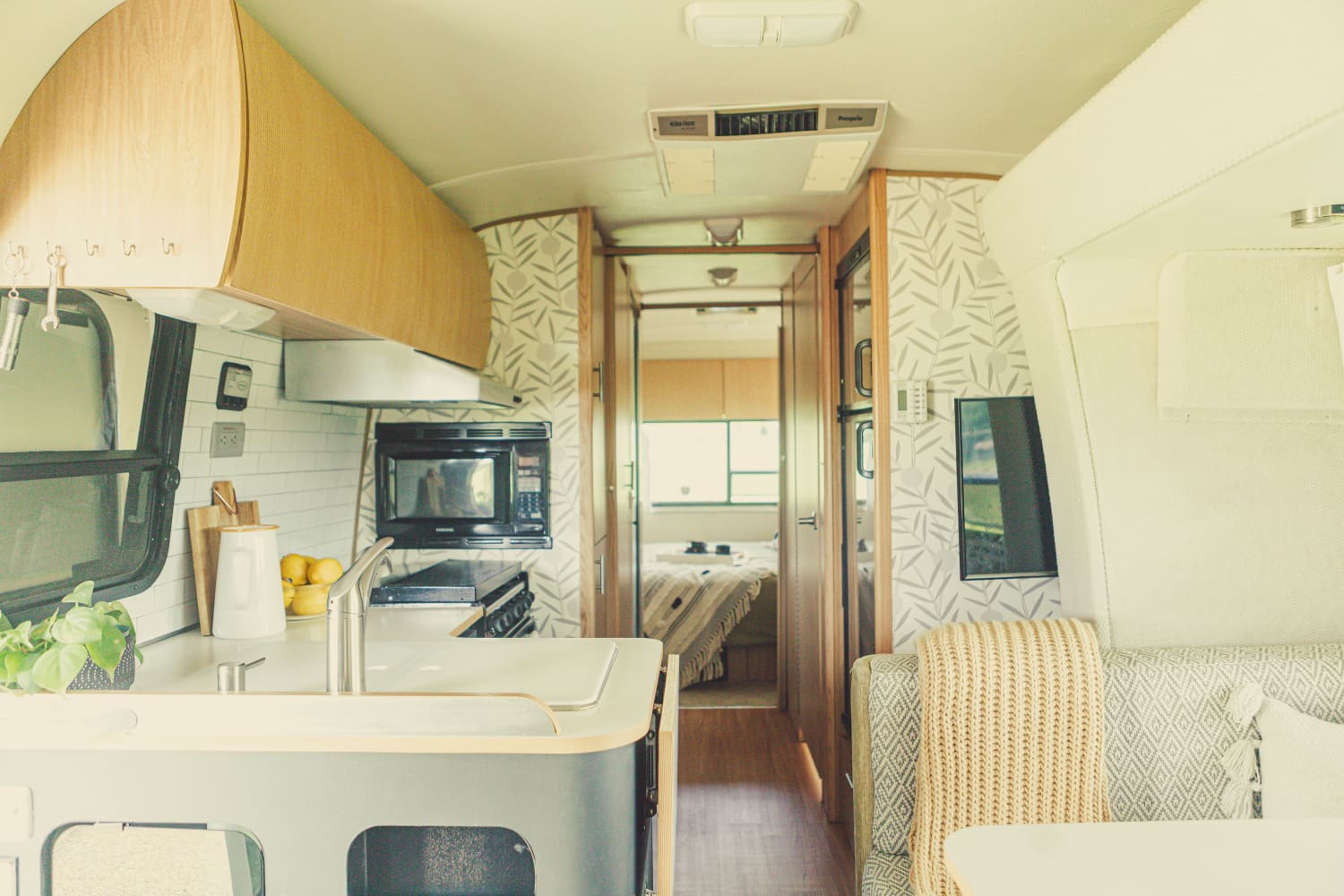 published about 1 hour ago
For more content like this follow
Steve and Gracie Moakler live in Nashville, but since Steve is a songwriter and touring artist, they've been traveling the world together since 2013. Since then, they've had two boys, Jack (3) and Willie (2). Gracie owns a digital marketing company, and also does social media management, websites, and email marketing through her company, Elevate. When they're not on the road, Steve is writing music for artists like Reba McEntire, Dierks Bentley, and Jake Owen, and is releasing his 7th studio album, "Make A Little Room," on August 12.
"We are the proud owners of a 2006 28' Airstream Safari," the Moaklers say. "We have toured the country in various campers for almost a decade, but after having kids, we decided we wanted to buy one that we could customize to feel more like our home but on wheels. We found it when we were searching for Airstreams online, as we've always dreamed of having one. One thing that's really unique about this one is that it has a slide-out which they only made for a couple years. To us, it's the best of both worlds because it has the sleek Airstream aesthetic, while also having some extra space that is key for our family of four."
"Our favorite moments in the camper are spent around the table in the mornings. After a show, we wake up and sip coffee while the boys play with cars and eat cereal at the kitchen table. It's honestly so sweet, we wish we could just bottle up those moments forever."
Apartment Therapy Survey:
My Style: Earthy, laid-back Americana, with a pop of modern
Inspiration: We wanted our Airstream to feel like an extension of our Nashville home, with lots of texture and color.
Favorite Element: We love the Iron Ore cabinets. We have iron ore throughout some of our favorite rooms in Nashville, so that crossover is very comforting to us.
Biggest Challenge: The airstream is not a ton of space for four people! We definitely have to be very thoughtful when packing for a tour run. Gracie's motto is "we can always stop at Target."
Proudest DIY: Our custom crib and toddler bed. All the corners are rounded, and since we're traveling with a 3- and 2-year-old, we've had to get creative with making a space they can sleep in. We tapped Steve's dad, Tom, who's an architect, to help us think through the best space saving plan and create these beds. We actually built them along with him, and we're really proud of how they turned out.
Biggest Indulgence: The wallpaper. We saw it and had to have it. We LOVE the personality it adds to our Airstream. And again, reminds us of home which is super helpful when we are gone for weeks at a time.
Is there something unique about your home or the way you use it? Yes! We travel the country as a family and play private shows using the Airstream as the backdrop. We hang lights on it and set up a stage in front of it. It also serves as our greenroom and lodging for the night. We put on around 30-40 shows a year.
What are your favorite products you have bought for your home and why? The stick-on tile. We researched a lot about how to create a cost-effective, travel-friendly reno for the bathroom and kitchen, and found some great tile alternatives. Because we're pulling the Airstream all over, our decor and interior has to be pretty hurricane-proof while we drive. We can re-style it once we arrive at our destination, but the main elements have to be incredibly durable.
Please describe any helpful, inspiring, brilliant, or just plain useful small space maximizing and/or organizing tips you have: Baskets, baskets, baskets. For a small space, they are life savers for us. Because everyone doesn't get to have as much personal space, we categorize things into baskets. Also, our tip would be to just declutter. We have gotten way better at packing efficiently, learning to layer (clothing) and realizing that bringing extra items actually just adds more stress. For us, when the airstream is too full or it has collected clutter as we have traveled, we have to stop and declutter — it instantly brings a new sense of peace!
Finally, what's your absolute best home secret or decorating advice? We think decorating should be an extension of who you are. We wanted the Airstream to feel like us. We're dreamers, creatives, family-centered, and when you walk into our Airstream, I think (and hope) you would instantly feel that!
Thanks Steve, Gracie, Jack, and Willie!