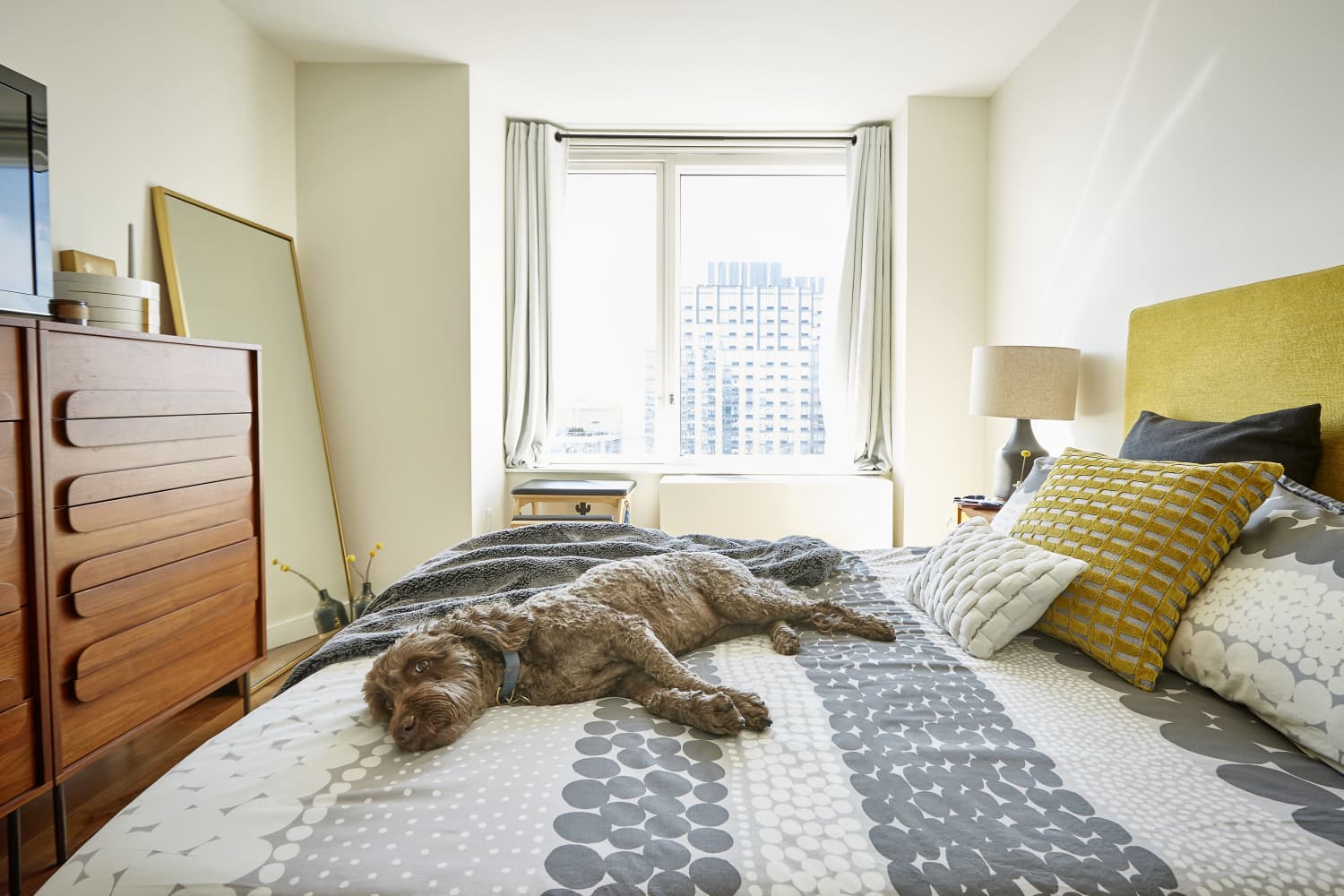 published about 1 hour ago
You can usually spot a dog parent a mile away by the fur that covers their clothing, car, and everything else they own — or by their related pursuit for the perfect vacuum. But, what if fur-mania wasn't a requirement for having a dog?
For more content like this follow
If you are looking to adopt a new friend and shedding is top of your list of considerations, check out this roundup of the best low-shed dog breeds. Plus, no matter the breed, a few care tips can do wonders to reduce the tumbleweeds of fur.
Soft Coated Wheaten Terrier
Liz Hnatiak, the practice manager of North Royalton Animal Hospital, says any dog breed with fur will shed — so breeds that are commonly called "no-shed" are more accurately "low-shed."
She recommends the Soft Coated Wheaten Terrier as an excellent option. "They have nice, thick hair," she explains. That's a benefit because Hnatiak has seen that dogs with short hair tend to be the ones that shed all over. Low-shed does not mean that the hair is necessarily low maintenance, though. The American Kennel Club advises that "the unique wheaten coat is low-shedding but needs diligent care to avoid matting."
Cavapoo (Cavalier King Charles and Poodle Mix)
A Cavapoo is a mix between a Cavalier King Charles Spaniel and a Poodle, which can take the low-shedding characteristics of the poodle coat. Hnatiak recommends this mix for potential parents looking for a smaller breed, and they are the perfect size for a small apartment. However, she cautions that with all mixes, the puppy can adopt the coat of either parent, meaning low-shed isn't a guarantee.
With a goal of low shedding, curls are crucial (see: the Poodle). Choosing a breed with a curly coat is the general guideline for shedding prevention because, according to Hnatiak, these coats usually mat instead of shed. One option is the Bedlington Terrier. "The crisp, curly coat of the Bedlington Terrier is a mix of soft and harsh, but not wiry, hair," according to the AKC. "While fastidious owners will be happy to learn that it virtually does not shed at all, it grows very quickly and needs to be clipped every two months," they advise.
With curly fur in mind, another great option is the Lagotto Romagnolo, which has more of a wooly texture to the curls that cover the dog from top to tail. The AKC explains that "the breed's trademark curls feel and behave more like human hair than fur."
American Hairless Terrier
Without a doubt, a hairless breed won't shed. However, hairless doesn't mean effortless. These dogs need an experienced, dedicated owner, according to Hnatiak, because they require grooming frequently and can suffer from skin problems. Regarding one hairless breed called the American Hairless Terrier, the AKC warns, "The hairless variety is as hypoallergenic as a dog can get. Hairlessness, though, presents its own challenges. Sunburn is a concern, and cold weather requires special precautions."
How To Reduce Shedding In Any Breed
Shedding is not as simple as just the breed of a dog, though. Some breeds may tend to shed less, but Randy Klein, who has owned New York City's Whiskers Holistic Pet Care for 34 years, attributes much more to a dog's diet and grooming. "Frankly, shedding is a huge byproduct of what goes in, coming out," Klein said. "Any dog can be a non-shedding dog if taken care of the right way."
Whiskers focuses on healthy, organic, and natural options for pets and specializes in diet and nutrition. As such, focusing on food is Klein's first suggestion for preventing shedding. A diet of whole meat and vegetables with low grains, a multi-vitamin, and an omega oils supplement is the ideal plan, she explains. From best to worst, Klein ranks a raw diet as the number one choice, followed by a gently cooked option, and dry kibble as the last choice — though of course, each dog has individual dietary needs.
To pair with the right food, the right brushing schedule is also important for nixing loose fur. "You are actually bringing blood to the area of the body that you're brushing and combing and oxygenating that part of the body," says Klein. "So the more movement and blood flow you can get to an area, the less shedding you're going to have. "Brushing is also important to prevent matting, which painfully pulls on the skin, so Klein recommends performing this care ritual at least four times per week.
Now, go forth and adopt all those curly pups or adopt these tips to prevent shedding from your furry friend!