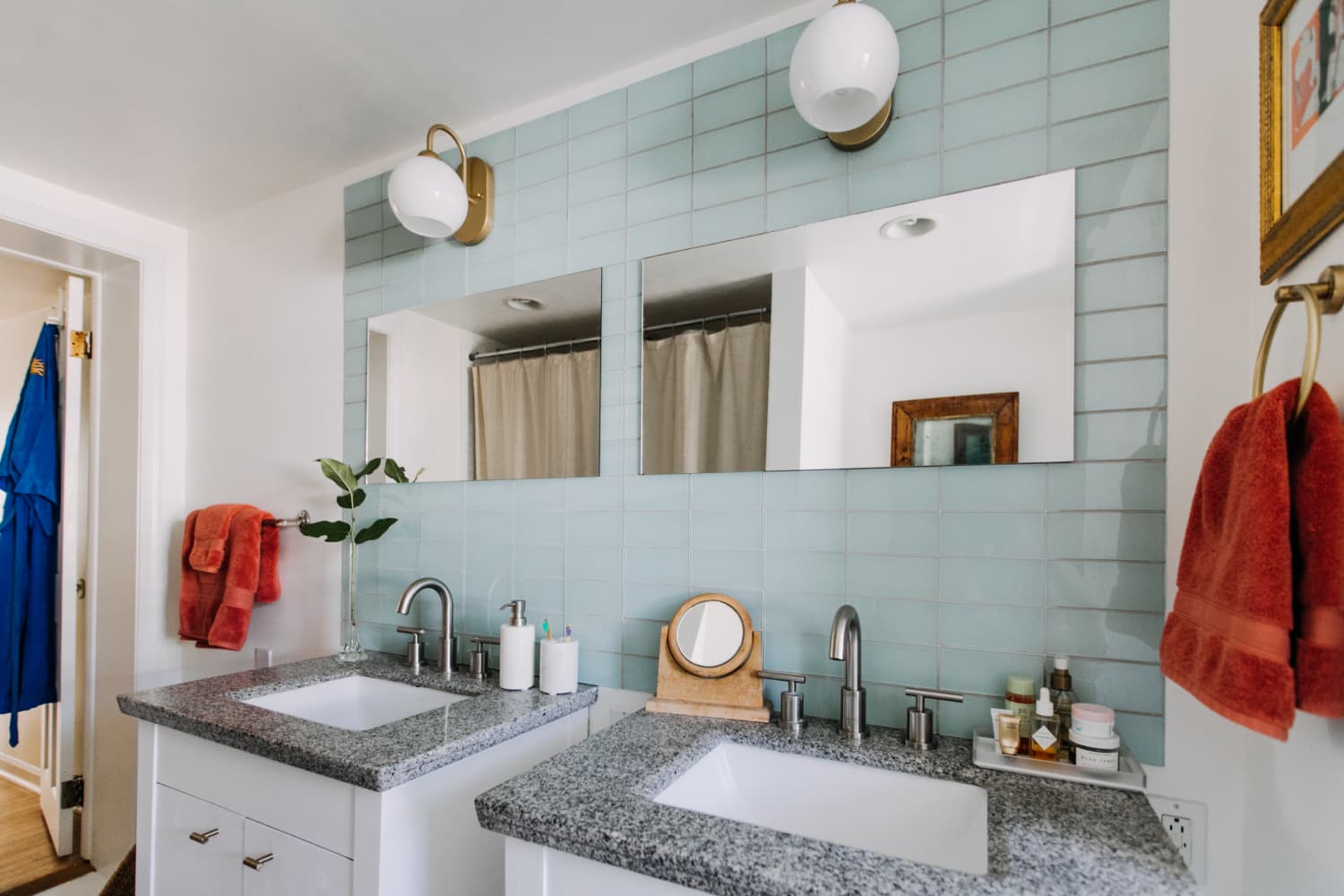 We independently select these products—if you buy from one of our links, we may earn a commission. All prices were accurate at the time of publishing.
It's no surprise the bathroom can be one of the hardest spaces in your home to organize and decorate. Bathrooms are usually on the smaller side, and it can be difficult to decide how to lay yours out in a way that will be practical, pretty, and functional. To figure out the best ways to get more out of a small bathroom setup, I spoke to some of my favorite designers, and these are their tried-and-true tips and tricks.
For more content like this follow
Designer Meredith Goforth, founder of House of Prim, says to set yourself up for less clutter by tucking away anything you don't use daily. "Start by creating an edited section for all daily items: vitamins, daily skincare, body, face masks, etc.," she suggests. "Then, store overflow and extras, like travel-related items, in the closet. This way, when it's time to grab a new bottle of conditioner, it's in a specific area and easy to see what you have stocked."
In her own tiny bathroom, Goforth prefers stashing cosmetics in drawers, or for a transferable solution (for doing makeup somewhere other than the bathroom, for example), she loves The Home Edit by iDesign Clear Rolling Cart from The Container Store. "I added individual organizers with inserts to divide makeup into zones," she says. "The zones can be based on the order you apply products in your makeup routine or categories of products (face, eyes, brows, and lips). The Home Edit Bin Dividers from The Container Store are so good for keeping everything in its own place."
Designer Samantha Struck of StruckSured Interiors suggests going vertical to optimize your square footage. "Above the toilet storage is very useful," she says. "Extra linens and toiletries can be stored in a closed cabinet above the toilet, perfect for guests to access to make the most of dead wall space." Struck also advises remembering the benefits of medicine cabinets — and to consider adding a small one above your sink if you only currently have a mirror there. "Extra space for toiletries behind the mirror is fantastic when vanity space is limited," she says.
If you don't want to invest in a mirrored medicine cabinet, you can still use mirrors to your decorative advantage. Designer Cristina Lehman of C Lehman Home says adding a large mirror above your vanity can also make your tiny bath seem a little more expansive.
Opt for some open shelving
Designer Lauren Sullivan of Well x Design suggests looking for unexpected ways to maximize storage. "You can do this by utilizing empty space with open, built-in shelving or making a shallow recess between studs in the wall for added shelf storage," she says. The latter is what's often called a bathroom niche, and if you can spring for (and, if renting, get approval of) construction, no one ever regrets eking out this extra bit of space for toiletries and other smaller items.
For a more budget-friendly solution, designer Anastasia Casey of IDCO Studio suggests sticking open shelving wherever you can find space for it. "Instead of a completely closed vanity, I really like using a vanity with open storage below," says Casey. "You can use baskets to corral items, making them easily accessible and way more functional than cabinets. The open-air concept makes the space feel larger and keeps the eye moving in the small space." Work your vanity for all it's worth, too; notice how in the above bathroom, Casey found a way to incorporate a towel bar onto the front of the wooden piece. The more function you can pack into each piece, the better! You can also add open shelving above your toilet or on the wall opposite your bathtub or shower.
Designer Max Humphrey has one trick for making a small bathroom look bigger. "Add vertical wall paneling, which brings the eye up and makes the ceilings look taller," he says. "Bonus tip in this bathroom: I used sheets of penny rounds cut into stripes; stripes are a tip borrowed from fashion that can make things (torsos, legs, bathroom floors) look longer than they really are."
Embrace fool-the-eye colors and textile to make the room appear larger
"One of my favorite things to do in small spaces is to introduce color, especially on the ceiling," says designer David Quarles IV. "This way, the eyes are drawn upward, making the bathroom look and feel taller."
Quarles also has a smart strategy when it comes to shower curtains. "Additionally, just as you would do with the windows in your home to make the room feel larger, I like to hang standard, floor-to-ceiling fabric curtains as shower curtains," he says. "This is another way to draw the eye up, making any small bathroom feel much grander in scale. And no worries about the water from the shower getting on your curtains; simply use a liner (they come in all sizes) to protect the outside curtain!"
"If your space is really small, commit to going bold," Casey says. "I love a dramatic wallpaper moment in a powder room. It's totally confined, so it's easy to start and stop the wallpaper without competing with surrounding spaces."
Humphrey suggests thinking of every single detail that will help free space up. "Wall mounting the faucet is a way to get some extra countertop space in a small bathroom," he says. "It's also easier to keep the countertop clean. It goes without saying, but keeping a bathroom clean is the easiest thing you can do to get more out of your small space."